Welcome to Iberostar Paraíso Beach
Iberostar Paraíso Beach - All Inclusive - Playa Del Carmen, Mexico
The IBEROSTAR Paraíso Beach is a 5-star all-inclusive family hotel with a distinctive Mexican colonial style. This impressive hotel is located in Playa Paraíso, the center of Mexico's Mayan Riviera. The hotel's decor includes furnishings that are true works of art and the lobby is adorned with marvelous wooden carvings. The hotel's complimentary shuttle makes it easy for guests to travel throughout the resort, it runs on a regular basis.
Luxurious Facilities. The IBEROSTAR Paraíso Beach Hotel boasts one of the largest pools in the entire Mayan Riviera, over 3,280 feet in length! The pool area is furnished with Balinese beds and palm-thatched gazebos for relaxation. The IBEROSTAR Paraíso Beach is undoubtedly a 5-star luxury hotel.
Culinary Delights. The gastronomic delicacies offered at the IBEROSTAR Paraíso Beach Hotel are an experience for all five senses. Our culinary expertise and variety of dining choices set us apart from ordinary all-inclusive hotels, from top buffets to à la carte restaurants serving appetizing Mexican fare and international cuisines.
Caribbean Sports. Outdoor sports aficionados who enjoy being one with nature will be impressed by the IBEROSTAR Paraíso Beach Hotel's multitude of sports and leisure offerings including an amazing first class golf course and scuba center, among other great activities.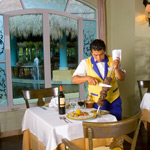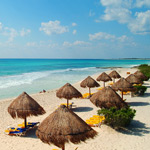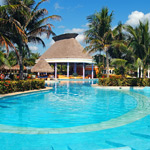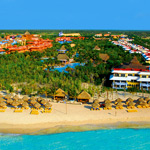 At the 5-star, all-inclusive IBEROSTAR Paraíso Beach Hotel you can have it all! With your all-inclusive stay happy hour is at any hour, you can take in fantastic shows, or even discover new hobbies with our classes and recreational activities. This is your paradise where the enjoyment of sunny days is matched by the enjoyment of your all-inclusive stay.
Dining
When it comes to variety and quality, the 5-star all-inclusive IBEROSTAR Paraiso Beach Hotel's culinary offerings are true standouts. And few places match the authenticity and deliciousness when it comes to the tastes of Mexico. Both buffet and a la carte dining venues feature dishes that are expertly prepared and presented. Six inviting bars and snack bars are located throughout the hotel for cocktails and light dining, while 24-hour room service is ready to serve you whenever you like.
6 Speciality Restaurants
Buffet Restaurants
6 Bars
Entertainment
"Spectacular" only begins to describe the variety and quality of the entertainment and diversions awaiting guests at the 5-star all-inclusive IBEROSTAR Paraiso Beach Hotel. Shows, games and all-night dancing at the disco will dazzle adults while kids will thrill to the most engaging activities and programs. The huge spa affords the opportunity to relax and heal mind and body. All the while, the tropical beauty of the Mayan Riviera provides a dream-like setting for a truly magical all-inclusive vacation for the whole family.
Main Swimming Pool
MKids Club
MTheater Shows
MGalaxy Nightclub
MCasino
Sports
For sports lovers, the 5-star all-inclusive IBEROSTAR Paraiso Beach has got it all. Dive and snorkel on a breathtaking world-famous reef, sail and surf over the waves of the turquoise Caribbean, golf a jewel of an 18-hole course or relax and tone with yoga and a fully equipped health club. Kids and adults alike will be thoroughly challenged and engaged day and night.
18-hole golf course
Gym
PADI Certified Diving Center ($)
Starfit & Fun Activities
Services
A dedicated team of professionals at the all-inclusive 5 Star IBEROSTAR Paraiso Beach is eager to provide guests with the all the conveniences and services to ensure that a vacation with us is as flawless as possible.
11 am-11 pm Room Service
WiFi available in the Lobby
Service and Taxes included
Access to facilities and restaurants of IBEROSTAR Paraiso Beach